Craft projects: ways to regain passion for crafting. Today is not usual for me to post something, but I just wanted to post for fun. I was thinking more of another chilled post. However, it turned out to be one of my regular posts.
And as you guessed, it's about crafting. A long time since the last time I post about this topic, and it's on my favorite list. I enjoy posting and writing every time. Hopefully, you will enjoy reading this post and find it helpful.
Some of you may know that I paused crafting for some issues. However, I couldn't stop posting about it altogether. So, instead, I share tips and things that can help with the crafting process.
Until I'm able to craft again, this is something I will post. I'm glad to write again about DIY projects, though. If you find this helpful, please consider sharing it with others.
Craft projects: ways to regain passion for crafting
My aim for this was to mention some fun moments of DIY crafts. But something got into my mind, and it was this idea.
Table of Contents
This is something I will need to do since it's been a while since I haven't crafted anything. Well, there are more than these tips. So please keep reading to know about them before you decide to regain passion.
Having passion is very important. We all know something makes it fun to enjoy crafting, which we would be passionate about. And this is something we develop every day by doing it.
Suppose you decide again that it's to craft. However, what happens when you stop doing it? This is where today's post comes in and helps to achieve that.
The first thing you would need is to gain passion. Well, it's my plan for when I come back to crafting and sharing ideas on my blog. So, make sure to focus on gaining the passion again if you decide to come back to craft ideas.
This way, make craft projects fun and easy for you to do. Please don't make it feel like it's a heavy task for you to do.
Read more of the blog:
The good thing about this is that you can do it as you try to craft items. And I will mention something that helps you get your mind into crafting again on the list below.
So, keep reading to know about that. Please let me know your thoughts after you finish reading it. Do you think it's a good idea to do it or not?
1. Attend a crafting session done by a friend or family member
Alright, I'm going to start with one of the best ones. That would be attending crafting sessions done by others, whether a family member or even a friend.
I said the best ones because you can watch and experience them. Watching someone doing something you love to do makes you want to do it. You might get excited and start helping.
Sometimes when my aunt tries to craft something. I need to help her, which is an excellent way to regain their passion for craft projects.
Even if I watch her, it's something I've done before. It would feel like I want to do it again. Well, I depend on how determined you are and if you have another thing on this list.
Check out more of the blog:
Maybe it won't happen from the first normal one. But if you do all these things at once, it could be faster than you think.
So, keep attending crafting sessions when possible. And you don't have to force yourself because that would be good for other essential things in your life.
Make sure to balance since it will take time to gain a passion for craft projects.
2. Remind yourself about the old fun moments with crafting projects
Another thing that could be helpful. Make sure to remind yourself about the old days. Moments of old crafting were fun to remember—the good results of crafting something in your past.
Doing this could help you get the mindset to craft again. And not you are just gaining passion which is essential for a good crafting journey.
You don't have to do it for a lot of time. Maybe a few times a day to get back into the crafting spirit, and remembering about it could make you want to craft again.
It would turn into determination to craft something for how fun it was. Well, this is something I love to do it even nowadays because I miss the old fun days.
This is something that would take time as well. Therefore, please don't rush the process, and keep doing it.
Even if you start crafting, don't stop because developing a passion would take more time sometimes.
When crafting seems so fun and easy to do. Also, when you feel like you need to prepare more because of how fun it is.
That is when you know it's time to make new moments to remember and stop thinking about the past moments.
3. Go to crafting events and participate if possible
Moving to the next one is another fun thing to do, but it helps you gain passion. Watching others competing and having fun will get the mind into it. And that would go to crafting events.
Also, seeing others laughing and crafting is another way to help you. Maybe you will find a partner to prepare for that event which is even better.
One thing to consider is where the crafting event is and how often you get these events. Some counties and places don't have it or don't know when it happens.
I recommend you ask or talk with locals if they know something about it. They would be happy to share with you if they know something.
Craft projects are fun no matter where you do them. However, when there are a lot of people crafting. You would feel like you want to join them.
Create good moments together by crafting. It would be even better to have others around you. So, even if you have the passion and are already preparing many ideas. This would still be good to do as well.
4. Make it something you need to achieve and remind yourself all the time
It won't help if you don't have this one. This is very important in this process of gaining a passion for crafting.
DIY craft ideas can be fun or challenging, but sometimes you don't finish them if you are not determined. And also works with trying to be passionate again.
You, too, have to make it something you want to achieve.
And not only that, but you also remind yourself all the time. This means you want to get it and remind yourself about it.
Make sure that no matter what happens in your life. You won't forget about what you want with crafting. So, don't just make it something you want to achieve, but also remind yourself all the time about it.
This is one of the essential things you need. And without it, it would be difficult for you to achieve it.
I highly recommend trying to do anything possible to get your passion back with this one on the top list. It will be helpful in some situations and moments.
Because it's not so easy to get back into the crafting mindset.
5. Do creative but simple crafting ideas
Sometimes, even with doing a lot of things, you would still need more things to do. So, if that is the case, do simple but creative crafting of ideas.
This way, it will benefit you in more than one thing. By doing this, you can start developing the mindset of crafting and passion. Also, help pick up the skills and craft talents again slowly.
I'm sure you will always find simple and easy ideas in any crafting category. And it can also be creative. So, spend time to get these types of pictures.
Something good about these is that you don't have to think much.
Since they are simple, they could be short and creative. That is good for someone trying to get into crafting again.
It's not always about passion, but it would feel different when you are in the field. So, doing this would help to develop courage as well.
Therefore, you get more than one benefit from this one as well. As you can see, there is more than one benefit to doing all of these.
6. Watch crafting projects made by a friend
Sometimes you don't feel like doing anything until you see someone's work. So, going to a friend's crafting shop. And check the project and the awesome things that my friend did. That can help to get back or even build the passion to craft something like them. Crafting can be boring until you see what you can do and your mind will change.
Crafters can inspire each other with new ideas. If you are an old crafter and stopped, this can help you to get back. It might not be quick but it will be definitely worth it. Therefore, I highly recommend going to a friend and seeing his/her amazing work.
Conclusion of Craft projects: ways to regain passion for crafting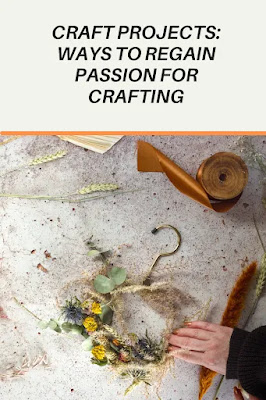 Thank you so much for reading until this point. I never posted on a day like this before; if I did, it was long ago. I share some excellent ways to gain a passion for crafting.
Hopefully, you found it helpful, and I would appreciate it a lot if you could share it with others.
Have you done this before in your life? Do you like crafting? Have you gained passion differently? Let me know below; it could help others who read the comments.
Don't forget to subscribe to my email list. You will receive new excellent posts like this on time. Also, follow me on my social media. Please find me on Pinterest and Twitter as well. Have a good day!