Hello everyone and welcome to a new post for this week. I think this would be my last post of this month. However, I will try to do one more. This month was short, to be honest. Guess what? Today I'm going to talk again about relationships. And something spicy because it's about signs that your girlfriend isn't sexually attracted to you. Something very important for a lot of people will need to know.
Well, I'm going to cover the signs and also more things that can help you. Such as tips to help you win your girlfriend all the time with a simple process. Questions that can help you to improve this part of the relationship. It's an interesting topic and I think many people will find it important as well. The way how to make your girlfriend attracted to you sexually.
signs that your girlfriend isn't sexually attracted to you
I want to start with something important. The way how people see this being in a relationship can be different. However, to make it simple, being good in bed is an art and skill that need to be learned. Also, I'm going through some important things for people in relationships and answering some questions. Please consider sharing this if you find it helpful. That would mean a lot to me.
Another thing to start with about this topic is that pleasure and how you feel are important. Don't take this as a way to make it more difficult for you. However, being in a relationship is not difficult because of spending money only. Wanting to go on dates but more things today's post is one of them.
If you are looking to start a relationship with some you love but yo scared of that. Well, let me make it easy for you. True it needs many things but doing these things are a fun adventure. Maintaining a good relationship is not easy but going through everything is a fun journey. We always come from different backgrounds and because we love each other, we will learn and build the future we want.
Q: Should I pay attention to whether my girlfriend is attracted to me sexually or not?
A: Visual appearance is important and looking good is very good to everyone in today's world. Many people will like that. You do need to pay attention to that as it's important and makes the relationship better. So, your girlfriend is attracted to you is good because she would be busy looking at you instead of finding attractive people.
I've had friends who think because we love each other. A girlfriend must be loyal and can't cheat or anything. Although the boyfriend does everything to provide for her. However, that is not the case because we see more relationships broken because one or two cheats on each other.
Q: Would a girlfriend cheat on me because I'm not sexually attracted?
A: Depend on how loyal your girlfriend is. However, it could be a reason if you think about it for a second. Although she won't cheat on you because of that. It is still not the best experience for both of you. So, it's highly recommended that you pay attention to this part of the relationship. Your girlfriend would enjoy your company more and be with you in a relationship.
Read more content on the blog:
Your guide to a better future and an amazing life
People think being attractive is all about how you look. But I want you to read until the end please because I will share some good tips to help you with that. Looking good can only be one of many things. There are more things that you need to pay attention and I will talk about them.
Reasons why you need to pay attention to this
Make your relationship last longer and stronger
Prevent cheating in some cases and with some girlfriends types
Don't let your girlfriend be distracted by others more than you
Making excited for your partner to be with you
It's important for the relationship
Well, I want to mention this because it's important to know these reasons and why you need to pay attention to being attractive to your partner. Because I believe having the why will get you in the right direction. I've seen some people trying to be attractive to impress girls but doesn't work.
Check out more content in the blog:
How long does it take to learn a new language
There might be more reasons than these. Depending on your situation and the things you need to do. However, I highly recommend you work on this. You can follow the steps that I will mention later about how to be attractive. And do any other important things as well.
Many people might be in a relationship. But they don't pay attention to the signs that your girlfriend isn't sexually attracted to you. And that is something you need to change. Honestly, this can be for girls too because if boyfriends don't find them attractive. I'm sure they will find someone else.
FYI
Some people might think this is a heavy task. However, it's not because it's just simple steps you need to do. And keep doing them to maintain it for a long time. Being sexually attractive is a fun process but important. Especially, for people looking for a long-term relationship. You can't be for a long time together and never work on this.
Q: How to maintain being sexually attractive to my girlfriend?
A: Good question if you have this in mind. Well, think of it as a certain number of routines and you need to stick to them every day. This way, it would be fun to keep it going. And as you keep doing this, if you find something needs to be added or changed. Then, you can change it to make it better or even more enjoyable.
Important point
If you are married or looking for a long-term relationship. You should pay attention to many things. Don't be short on anything that your girlfriend or boyfriend goes looking for it in someone else. Being loved is one thing and if you want to maintain and have a good relationship. Work on everything and anything important in a relationship such as this.
How do you know that your girlfriend is not attracted to you sexually
Well, it's time to mention the signs that your girlfriend isn't sexually attracted to you. And later I will share how you can be attractive to win your girl's heart for a long time. There are common signs that people can tell from the first notice but also some signs that might not be noticeable at first.
Check more posts on the blog:
40 questions for self-discovery you should ask yourself
Some of you ignore these signs that your girlfriend isn't sexually attracted to you. Maybe because you didn't make the effort to notice it. So, I highly recommend paying attention from today if you are not doing it. Trust me, it will make it fun for both of you to enjoy the relationship.
Common signs
She is not enjoying having a fun time with you
Faking it in bed to get over it
Not into affection and touching as much
When your girlfriend doesn't start having a fun time or being sexual with you first
Not flirting back with you
These are some of the signs that people can tell fast. I wanted to mention them because there are more that people might not notice. Well, depending on how focused you are on everything. Because you might get them but not everyone would. However, it's important to pay attention to all on this list.
Not exciting for cuddles and being in bed with you
Some people might not notice because some girlfriends won't show that she is not excited. However, if she is attracted to you sexually, I'm sure your girlfriend would be excited to spend time with you in bed and cuddle. Hiding it would be impossible which you can tell.
One thing you will know later that why this has to do with being sexually attractive. And it's not just being in bed for a fun time. Affection and touches. Cuddling is one of them which is a good time to spend with your girlfriend. However, when she is not excited, there might be something you need to change or fix.
Q: What should I do when my girlfriend is not sexually attracted to me?
A: Don't freak out or overthink it. Go through all moments you had with her. Make sure to pay attention to everything about you. Body, smell, and everything important. Take some feedback from family(sisters, and friends which you trust a lot and who won't make fun of you) and some tips. Plan steps to change and remember it will take time.
FYI
No need to tell your friends and family that you are changing. Take some tips and advice to help you with the process. I mentioned that because it's good to take some tips from experienced people if you have some around you.
Don't reciprocate the affection and love
When it's only one-sided, there is something wrong. Because this something should be from the both. If she still loves you and wants to be with you. Then, it could be not sexually attracted to you. And some of us might give some affection and love. As the moment occur, it won't be easy to tell that not after a few time to many time with some people.
Being distracted by other attractive people more and not complimenting you as much
It's not big deal when your girlfriend talks about other guys. But if she is mostly or only talks about them. Then, it's time to change something. Even though she might not have done it with other people. She still wishes that she does it with them and not focus on you who is the boyfriend.
Don't say me it's impossible to get a compliment from your girlfriend. Whether a good complement for being good in bed or looking handsome. I've had friends who don't pay attention to this and think it's normal. Something not going well if you have this same thinking.
I might not mention everything but I always mention that make sure to focus. When you pay attention more, you will be able to know that. And it's very important to focus on being attractive sexually or not. Hopefully, these can help with that and I mentioned the common and more signs that I feel people don't focus on it.
Ways to be attractive with your girlfriend
This post is not fully dedicated to this. But I still want to mention some things that can help you to be sexually attractive to your girlfriend. Share some important things we need to know about this. Because it's something that might be ignored by people and it's important.
Personality and visual
Well, the first thing you need to focus on and work on is personality and visuals. you need to have a good personality and look clean, Looking fresh to make the moment much better. Having good habits and knowing what you doing is very important to make it good.
If you need to improve this, it would take time but that will be so worth it. One of the things is building a good body is part of the visual and what I mean by that.
Doing the right thing at the right time
I'm not just talking about having fun in bed. But also when giving your girlfriend affection and love. When to cuddle and the best time to do things in general with her. Because if you do it at the wrong time and keep doing it. She would lose the feeling and that is not going to be good for you.
Imagine she is angry and you are all over her trying to touch her to feel good. Well, that is not a bad example of when to do it. Maybe doing something to make her feel better. So, you need to know what to do and when to do it.
Practice and improve doing things
A girl or even a boy will love nothing better than doing something right. It builds the excitement and passion to do things with each other. It's not a shame to learn and improve by doing things. Such as cuddles, having fun, and even some love and affection moves.
Communicate with each other and improve together if you guys have no idea how to do them. Trust me, you will be locked with her forever. Why would she look for someone else when she gets the best at everything? And when you do it right, it's fun for both. So, you have no reason not to get better at it.
Conclusion of signs that your girlfriend isn't sexually attracted to you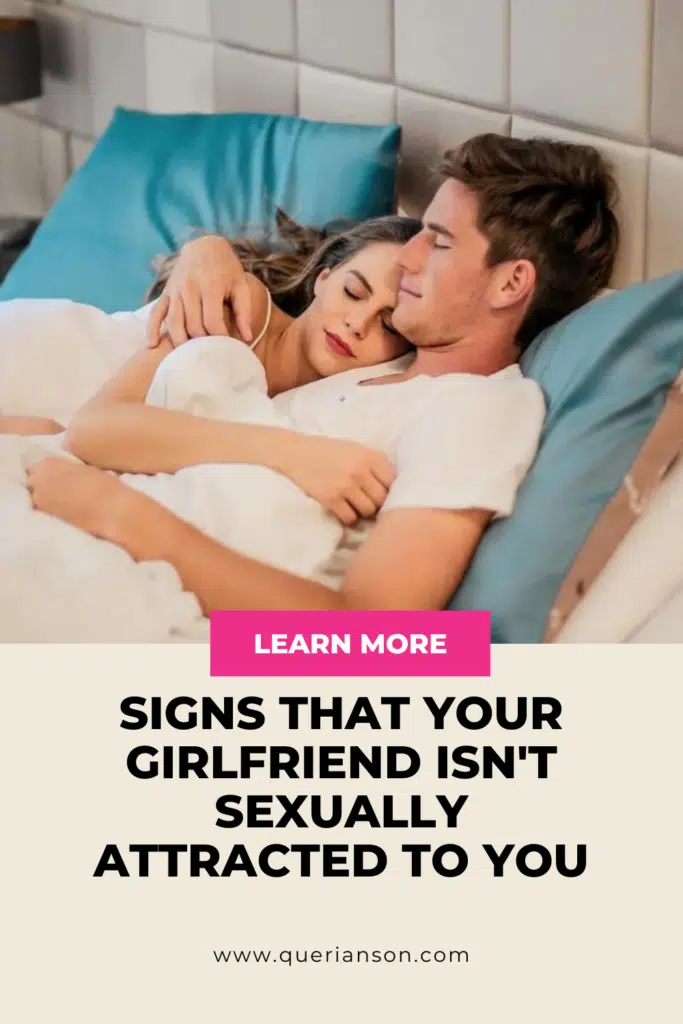 If you read until this moment. Thank you so much for reading and I appreciate it a lot. It's been fun writing another post about relationships. Overall, it's very important to focus on this part of your relationship. And I've shared a lot about this and hopefully, you found it helpful.
What do you think of this post? And Do you think this is important in a relationship? Share your experience if you worked on this before. Let us know what you think in the comment!
Please don't forget to subscribe to my email list. You will receive awesome posts like this. And follow me on social media. Find me on all social media, Instagram, Facebook, Twitter, and Pinterest.